In honor of Earth Day I thought I'd share a few of my favorite eco-friendly resources...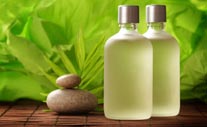 To find out how safe and/or natural cosmetics and toiletries are I always check
EWG Skin Deep
first.
To be abreast of the latest stylish and sustainable products for home, fashion, and lifestyle I subscribe to
ecofabulous
.
I adore
Milkshake
and
MilkshakeKids
, which provide free daily e-mails "dedicated to finding the good in everything features companies, causes, people, places, and products [that] give back and make a difference."
HAPPY EARTH DAY...which should be EVERDAY!